Upselling is one of the most popular ways to boost your store's average order value (AOV). It not only earns you more revenue but also helps customers discover products that they may want but didn't know you sold—a win-win.
OrderBump is one of the upsell apps designed for Shopify. It is built to help you create order bumps at different stages of the customer journey. But while OrderBump is an excellent app, it fails at two important aspects: Setup and customization. 
The setup involves modifying Shopify theme files which can be cumbersome. It also has limited customizability which may be difficult to work with when you want your order bumps on Shopify to have the same look as your store.
If you haven't finalized a solution yet, this list has all the information you need to make your decision. 
What is OrderBump?
OrderBump is a Shopify upsell and cross-sell app that helps store owners increase the average order values. It allows you to upsell on the thank you and product pages of your customer journey.
Being one of the very few Shopify Plus "upsell" apps, it also leverages the checkout customization feature to show offers right on the checkout page. It's one of the highly popular apps in this segment but that does not make the app perfect. And if you do not prefer the limited customizability of OrderBump, you may want to look at some alternatives.
OrderBump Alternatives for Shopify and Shopify Plus
We've covered both Shopify and Shopify Plus apps as these apps offer distinct functionality—especially checkout customization.
1. AOVboost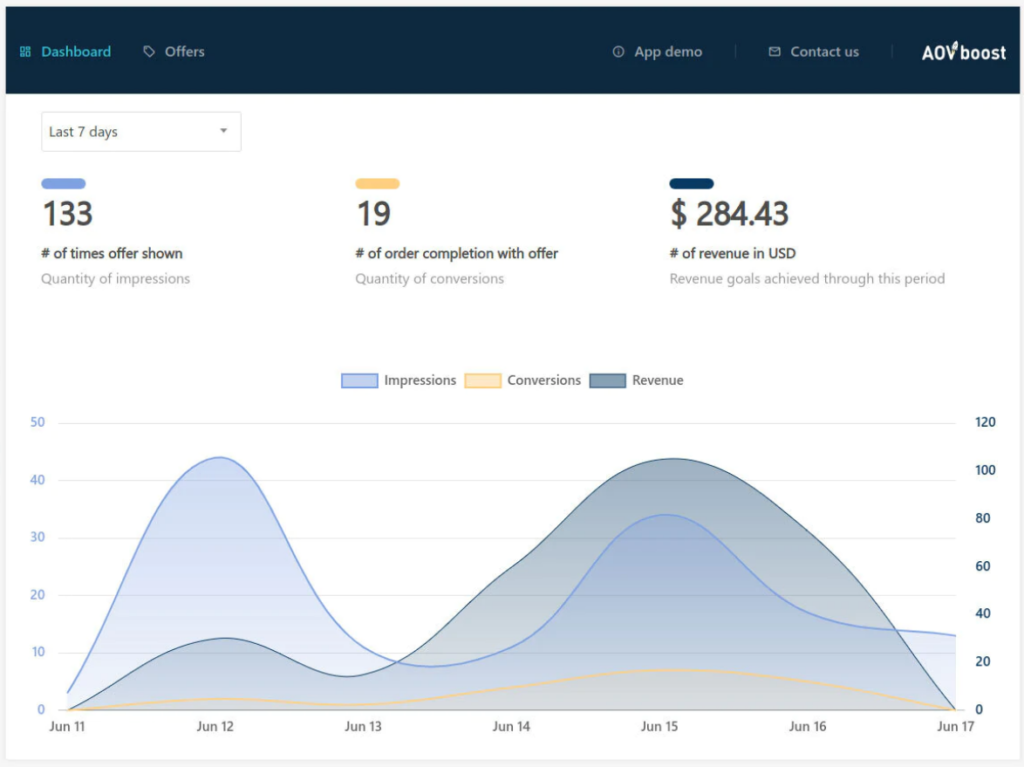 AOVboost is a powerful checkout upsell app. It allows you to increase your AOV by cross-selling complementary products during checkout. You can customize your offer, and control the discount amount.
AOVboost gives you complete control over how and when an offer is displayed to customers on the checkout page—the place where they're ready to make the purchase.
You can also design your offers to match brand style. But do note, AOVboost only works for Shopify Plus stores. If your store hasn't been upgraded to Plus yet, you may find other OrderBump alternatives which fulfill some of your requirements.
Top Features of AOVboost
1. Easy to Install
AOVboost makes the setup process simple. BoomBoom Naturals mentioned in a review that the installation took less than 5 minutes. This is simply 'cause with AOVboost, all you need to do is install the app, set the offer, and launch it. You don't need to worry about pesky theme edits or mess up weird Shopify settings. It's literally "set it and forget it".
2. Immediate boost in average order value
Not only is AOVboost easy to install, but many customers have also reported an almost instant boost in their average order values. Switch Research added 10% to their AOV right after installing the app.
3. Excellent customer support
AOVboost prides itself on the support it offers before, during, and after installing the app on your Shopify store. Sunsoil also talked about the responsiveness of the support team in a review which can be something to consider when looking for an app that directly impacts revenue.
Pricing
AOVboost has just one pricing plan—$249/month. This plan includes unlimited access to all the revenue-generating features to improve AOV and increase store conversions.
Benefits
No complicated setup. Baboon to the moon mentioned that AOVboost is super easy to use. They were able to install and get started very quickly and saw some additional revenue ASAP.
Allow the addition of upsold products with a single click so customers can complete their purchases right away.
Make your checkout offers stand out. Sunsoil created customized checkout offers to get high conversion rates for their upsell and cross-sell offers.
Discounted upsell and cross-sell offers that help you further improve your conversion rates by incentivizing the purchase of an offer.
Set your discounted offers to automatically end on set dates without manually closing them—no more accidentally extended offers.
Disadvantages
Some stores may indeed encounter issues with installation initially because checkout upsells can be a different experience for most stores. But as experienced by Eight Saints, customer support reverts quickly to resolve issues that may occur and help get you set up.
2. ReConvert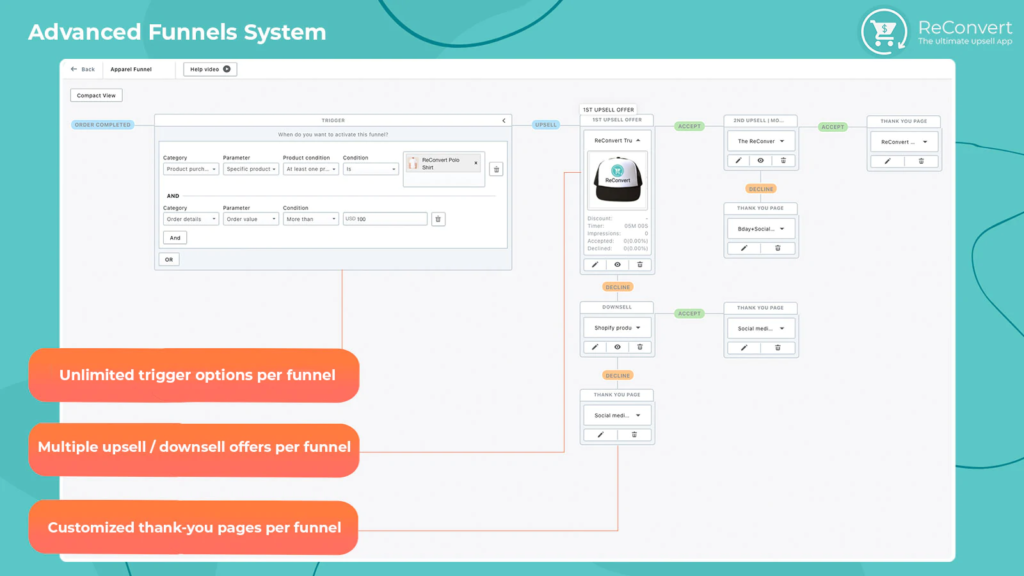 ReConvert is a great upselling app that helps Shopify merchants boost their sales and average order value. It also is a perfect alternative to Checkout Promotions.
With ReConvert, you can easily create personalized one-click upsell offers, cross-sell bundles, and post-purchase funnels that maximize your revenue.
Additionally, ReConvert comes with built-in optimization features such as thank you page customization, social media integration, and customer segmentation that help you outshine your competition.
Top Features
1. One Click Post-Purchase Upsell Funnel
While ReConvert is a post-purchase-only upsell app, it allows customers to pick an offer and add it to the cart with a single click. Ecom Library also likes that ReConvert works with the native Shopify checkout which avoids any issues with post-purchase offers. This avoids the unnecessary complications that come with apps trying to build their checkout pages and making the checkout flow complicated.
2. Quick setup
ReConvert is simple to set up and get started with. Mounteen mentioned on the Shopify app store that it was very easy to install the app on their store. Simply install the app and get started with setting up post-purchase offers.
3. Fully customizable thank-you pages
You can also offer multiple products to your customers based on their purchase behavior. This includes targeting users who just purchased by sending a thank you email, creating offers that are specific to users based on the products in the cart, adding reviews on the thank you page to encourage purchases, and more.
You can even add videos, photos, and surveys on the Thank-you pages to improve engagement and gather more data about purchases.
Pricing
Reconvert starts free for up to 49 monthly orders. Stores with 50+ orders can start at $7.99/month, with a 0.75% of generated revenue fee. The prices go up to $799/month depending on your monthly orders.
Benefits
Has a free plan for up to 49 monthly orders which can be an excellent way for stores to test out the product before going ahead with the subscription.
Having a fully customizable thank-you page, allows you to design every element on the page to convert better, and test out different layouts to see what works best.
The easy setup helps you get started quickly without unnecessary complications or requiring edits to the theme liquid files.
In a review, Iris also mentioned that ReConvert allows sending Thank You emails which help with retargeting the users that have already purchased from your store automatically.
The AI-recommendations engine can automate a lot of the decision-making while suggesting products to customers.
Disadvantages
Some titles and fields have the wrong colors or sizes and this cannot be overridden using custom CSS via theme.css.liquid.
It can be difficult to manage leads generated from the ReConvert Thank-you pages as it does not integrate with many email marketing apps.
Customer support is hit-or-miss. While a majority of the users report that the support has been responsive, many users mention that the team can be pushy with their communication. SportsBra mentioned that they have received emails on an ad daily basis since they installed the app and left a review on the app store.
3. AfterSell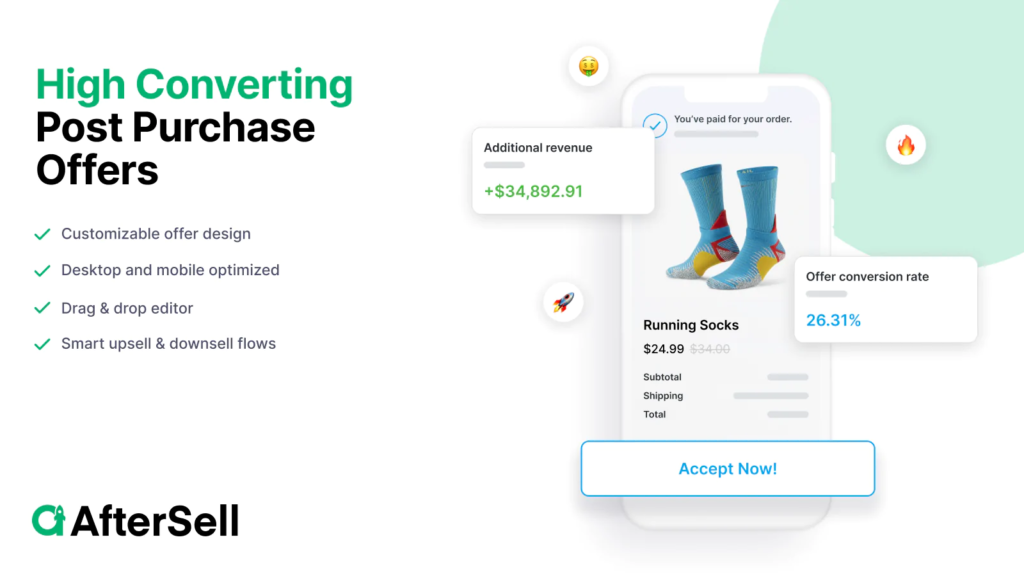 AfterSell is a native post-purchase offer extension for Shopify that allows store owners to increase their average order value by showing a series of one-click offers after the initial purchase.
These offers can be customized to fit the brand, and customers can accept them with just one click. There is no need for customers to re-enter payment information or go through checkout again.
It is a great Checkout Promotions alternative as it allows for more customization and is mobile-optimized. AfterSell also integrates with Nosto, Loox, Stamped, and Judge.me, ReCharge, and other apps that you may use for managing the operations of your store.
Top Features
1. One-click upsell post-purchase
You can easily create a post-purchase upsell funnel using AfterSell without a complicated setup. To help make things easier, the support team can also help you set up your first funnel completely hands-off.
2. Multiple upsell funnels
Not only can you add upsells, but AfterSell also allows you to create additional steps in your upsell funnels so there are more opportunities to sell to your customers. Start Your Boutique says these longer funnels are a great addition to their existing product
3. A/B testing
One of the best features of AfterSell is its ability to run split tests on the customized thank-you pages. Karma et Moi loves how the app offers a beautiful user experience and A/B tests for a very low monthly price.
Pricing
AfterSell starts Free for up to 50 monthly store orders (not orders generated by the app). Prices increase depending on the number of monthly store orders, with the highest tier being $29.99/month for up to 500 monthly store orders.
Benefits
Offers scarcity elements on the post-purchase pages that can be a great way to encourage more customers to take the offer.
Fully customizable making the post-purchase upsell pages look like your website without making the offers look out of place.
Multi-layered post-purchase funnels allow you to add up to 2 upsells and 1 down-sell giving you more opportunities to make the additional sale and have been a great addition according to Start Your Boutique in their app store review.
Has one of the cleanest interfaces in upselling apps according to many reviews on the Shopify app store.
Disadvantages
Enagancio pointed out that you can add multiple upsell and down-sell pages to a funnel, a single page can only upsell one product at a time.
Lacks in-app instructions according to Stitch & Skein and the app could use better documentation for solving queries without going through the support. However, since the support team is great, most users do not find the lack of documentation an issue.
The app has been reported to be buggy and difficult to work with by certain users.
4. Upsell by ONE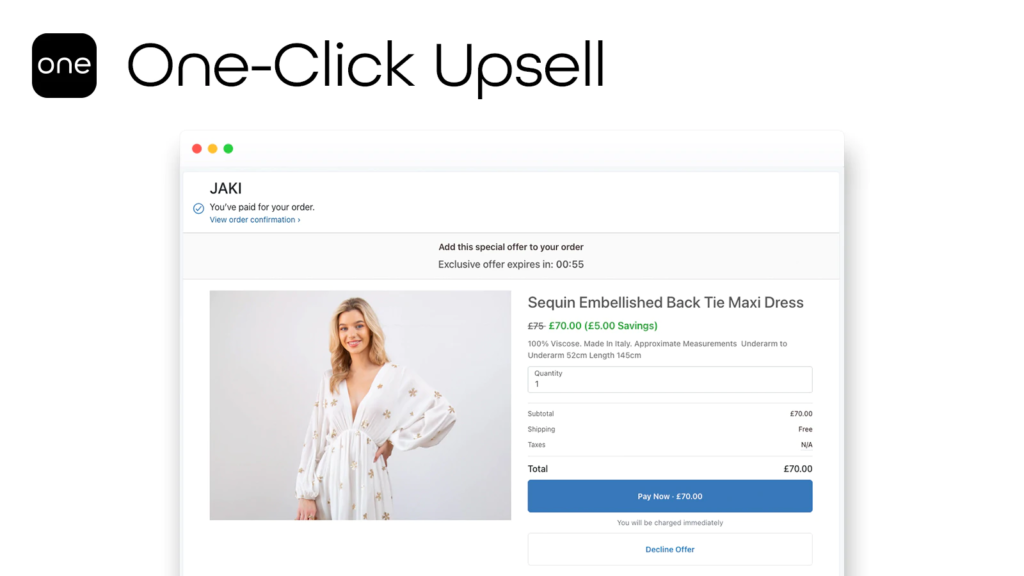 Upsell By ONE is a powerful post-purchase upsell app for Shopify that allows you to create personalized upsell offers for your customers. With built-in split testing, it's easy to optimize your funnel for maximum revenue. Plus, native Shopify integration makes it simple to increase campaign performance and save time on creating upsells.
With Upsell By ONE, you can increase your average order value and boost sales by also offering discounts on products that complement what your customers have already purchased. The app also gives you complete control over how and when an offer is displayed to customers on the checkout page—the place where they're ready to make the purchase.
Top Features
1. Customizable post-purchase upsells
Upsell by ONE boasts fully-customizable post-purchase upsells where you can design the entire page from scratch or use one of the 3000+ themes that are pre-built for you to use. Asannkhya also liked that the app allows you to gamify the upsell funnels by adding spin wheels that give a random discount to users that play the game.
2. Abandoned cart recovery
There is also an abandoned checkout recovery system that will allow you to recover lost sales by sending follow-up emails to customers who don't complete their purchases.
3. Loyalty program
ONE offers a loyalty program where you can give points to customers for making purchases, writing reviews, and more. This is one of the few features should consider in this app as it has been proven how loyalty programs improve revenue.
Pricing
Upsell by ONE is part of the app suite where you must purchase individual apps. However, installing the app is free.
Benefits
Allows multiple sales channels on the app including loyalty programs, upsells, and cross-sells. Many reviews on the Shopify app store mention this as one of their favorite features of this app.
Being a combination of multiple apps within a single app, ONE provides email marketing as part of its app suite which can be beneficial as you do not have to find other apps that integrate.
Is designed to be a single solution for all the marketing and revenue generation needs in ecommerce. ONE adds multiple independent apps within the upsells app that can help with creating popups, offers, emails, and SMS marketing.
Excellent customer support as experienced by a majority of the app users and reported on the Shopify app store.
Disadvantages
Navigation can be difficult as the app has too many features and individual apps that you may not need to be built into it.
Energy Peace Shop said that creating new campaigns is not intuitive and may require you to get in touch with the support team to help with the setup.
Upsell by ONE tries to be a single solution for multiple problems in the ecommerce world. This according to many reviews means they don't specialize in any specific niche and that can cause their apps to seem half-baked or only partially solve a problem.
5. Zipify OCU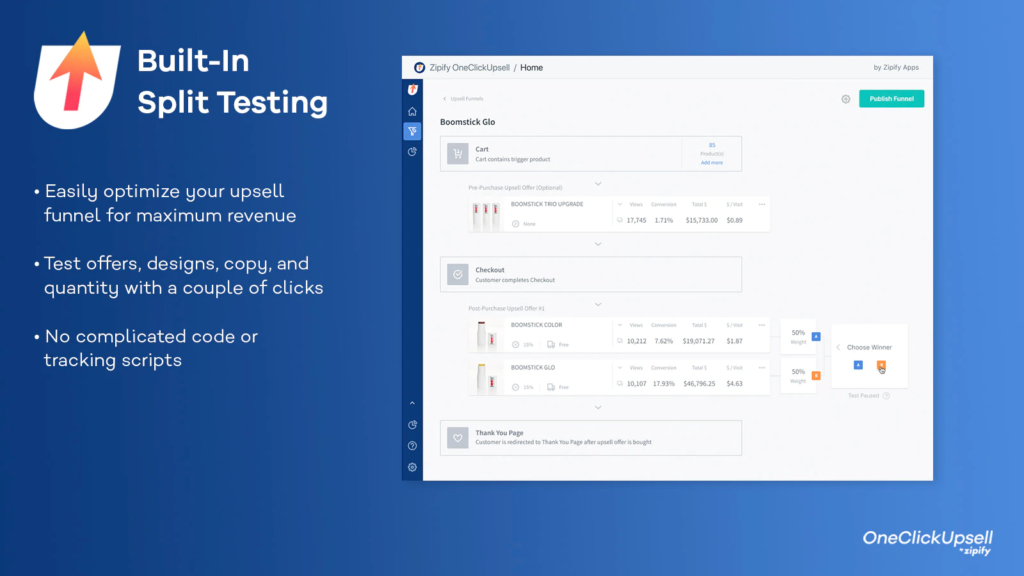 Zipify OCU is a Shopify upsell app that allows you to create high-converting offers and boost your average order value. With built-in split testing, it's easy to optimize your funnel for maximum revenue.
Plus, native Shopify integration makes it simple to increase campaign performance and save time on creating upsells.
Top Features
1. One-click upsells and cross-sells
Helps increase average order value and boost revenue by displaying offers that customers can add with a single click. The offers displayed by the app are also mobile-optimized and responsive providing a seamless experience to users on all devices.
2. A/B testing
Test different offers, copies, and designs to find what works best for your store using the built-in A/B testing module. Zipify makes it easy to run these tests and get access to the analytics to make the decision.
3. Predesigned templates for customization
Zipify offers a few predesigned thank-you page templates that you can use to begin your customization. This speeds up your process of getting everything ready for your store.
Pricing
Zipify OCU has four pricing tiers, which are based on the amount of upsell revenue you generate per month.
Tier 1 Up to $1,000 in total monthly upsell revenue—$35/month
Tier 2 $1,000-$10,000 in total monthly upsell revenue—$95/month
Tier 3 $10,000+ in total monthly upsell revenue—$195/month
Tier 4 $50k+ in upsell revenue—$750/month
Benefits
Offers pre- and post-purchase upsells right that integrate with the native Shopify checkout creating a seamless experience for customers as well as for the store owners.
Zipify adds to the average order value on auto-pilot once the app is completely set up. One of their users, Lola's Lashes reported an increase of 10% overall.
Built-in A/B testing allows you to create offer pages and test multiple variants to ensure that you only show the highest converting variant to your customers.
Cart value and product thresholds can be set when displaying offers to different customers. You can use Zipify if you want to create offers for customers who purchase a certain number of products or have a cart value higher than your specified amount.
Disadvantages
6. Bold Upsell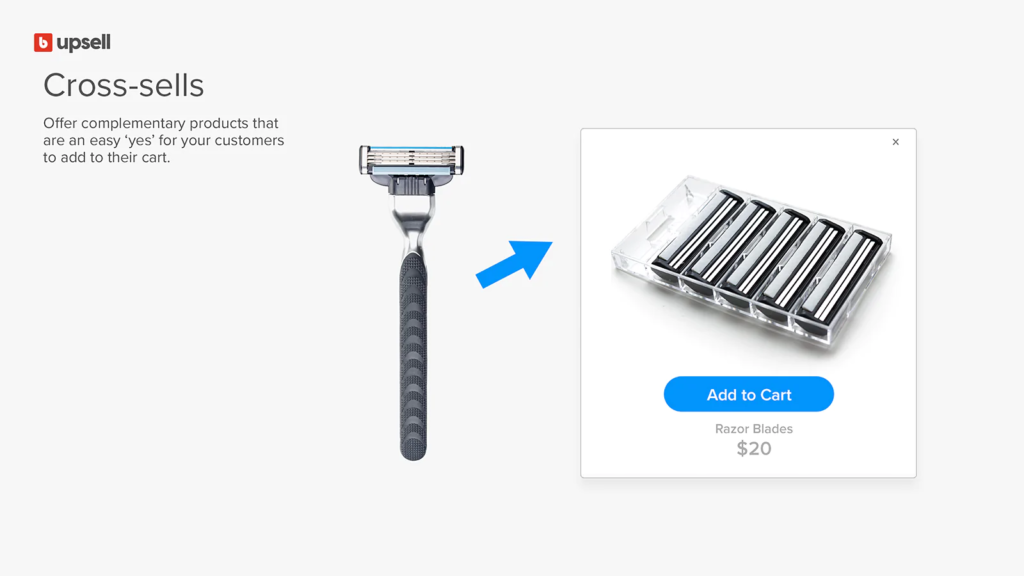 Bold Upsell, a part of Bold Commerce, is an app that helps you increase your average order value by offering and replacing customers' items with upgraded versions of their products.
You can also upsell customers from a single product to a product bundle or kit, and cross-sell complementary products that are added to your customer's cart.
With Bold Upsell, you can create upsell and cross-sell offers in minutes, track your upsell performance to optimize your offers, and maintain your branding throughout the shopper's journey on all devices.
Key features
1. Customizable upsell and cross-sells
Bold upsell offers full customization on how you upsell and cross-sell on your website. This includes adding single, multiple, or bundle products as your upsell offers. You can also create additional custom styling that maintains your branding throughout the shopper's journey on all devices.
2. Automatic upsell recommendations
Use Bold Brain to display data-backed upsell recommendations based on your customer's activity and identify what offers to convert best. Bold Brain can make things easier by reducing the number of decisions you need to take for selecting the right set of products to upsell.
3. Conditional offers
Bold upsell helps you automatically trigger upsell offers based on cart value, or specific products in the cart. Serve up additional offers based on your customer's response to previous offers with our conditional logic.
Pricing
Bold Upsell starts at $9.99 per month for 200 monthly views and unlimited offers. The Plus plan, at $19.99 per month, gives you 1,000 monthly views and upsells/cross-sells support.
You can also opt for the Enterprise plan at $89.99 per month for unlimited views and offers.
Benefits
Excellent customer support backing the suite of apps. They understand the technology behind the tools and respond with the right answers as quickly as possible. LeighFortington also mentions that support is always at hand via live chat.
All the features you need for upselling are available right within the Bold app suite. You do not need to search for additional apps that may or may not integrate well with your collection of apps.
The Upsell app allows you to create custom rules for cart value or products in the cart and show specific offers to these users. This setup is very user-friendly as mentioned by Dimitralian and the level of customization is perfect for what customers need.
The app integrates with the default Shopify checkout flow offering a seamless experience to customers. Also, Claris Deals mentions that the app integrates well with the active theme so offers to look like they're part of your store.
Disadvantages
The popups are not mobile-responsive by default and you need to customize the CSS styling on your store to make things look right according to Hustler Hollywood.
Features like discounted upsells, thank you page upsells, and others require the purchase of an additional app from the Bold suite. These features are not present by default as per a review by Fuchusi.
Apps by Bold are reported to break the checkout page after uninstallation. This is due to the code edits they make during setup. You may have to get in touch with the support team before removing the app from your store to avoid losing sales.
Like any of these options?
The checkout upsell apps mentioned in this article are great, to say the least, with each coming in with its own set of advantages and disadvantages.
To boost your store's average order value, especially with the holidays knocking, you need one of these apps to add those extra dollars to your monthly sales.